PLASTIC PATROL
Who are we?
Plastic Patrol is for lovers of the World's Seas and Oceans who want to do something about the immense plastic pollution problem facing 21st Century Earth.
What we do
We are volunteers who actually go out in boats and clean what sea we can reach. Bottle by bottle, bag by bag and every lump of polystyrene we find. We face an enormous task, but if we can save a Sun Fish here or a Turtle there then at least we are scratching the tip of that iceberg! One day we may reach our goal of eradicating plastic pollution by campaigning to remove its source.
How can you help?
Visit our Facebook page.

Joining and Sharing our Facebook group with your friends helps to increase awareness of this huge man made plastic pollution problem.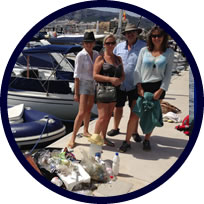 Volunteer
We are always looking for Volunteers to man the boats, spotters and pickers to get that plastic out of the water. Currently we run just one boat on the beautiful Costa Blanca in Spain. We hope to expand the fleet worldwide by inspiring others to set up their own Plastic Patrols.
Volunteers donate €20 for fuel and we go hunting for around 2 to 3 hours on a Sunday morning, departing from Denia's El Portet Marina.
You can volunteer for Plastic Patrol by visiting our Facebook group here and sending us a message